Theory Test

What Is The Theory Test?
The Theory Test is designed to test your driving knowledge and hazard perception skills. It was first introduced on the 1st of July 1997 and is the first step in becoming a full UK driving licence holder. You will need to pass this before you can book your Practical Driving Test.
The Theory Test consists of two separate parts, the multiple-choice section and Hazard Perception. To pass the test, you will need to score at least 43 out of 50 questions in the multiple-choice section, and 44 out of 75 for Hazard Perception. The theory test requires plenty of revision and preparation to pass.
How To Prepare For Your Test
You will need to revise well in advance of your Theory Test to ensure that you are fully prepared for any questions. The multiple-choice section of the test will thoroughly test your driving knowledge, covering a range of topics ranging from health and safety to road and traffic signs. The multiple-choice questions in the Theory Test are all based on three books:
We recommend studying each of these books to learn the rules and skills required to pass the test.
Driving Test Success
We also highly recommend the use of Driving Test Success Anytime for all of your Theory Test revision needs. This provides you with all of the tools to pass your test first time. With every Theory Test revision question available and unlimited mock tests; over 700 hazard perception clips; and over 35 brand new video tutorials covering all the essential routines and manoeuvres for your practical test, Driving Test Success is the perfect companion for your driving journey.

How To Book Your Theory Test
You can book your Theory Test online on the gove.uk website.
To book your test you will need:
Your UK Driving Licence Number.
Email Address
Credit or Debit Card
The current cost of the Theory Test is £23. Make sure that you are prepared, or give yourself plenty of time to revise, before booking your test.
What To Expect On The Day Of Your Test
You should arrive at the test centre at least 10 minutes early, to give yourself plenty of time to prepare yourself for the test. On arrival, you should present the administrator with your provisional driving licence, so that they can check your details, and confirm you're booked in.
Following this, you will sign in, and be asked to store your belongings in a locker. Your pockets must be empty, and you must remove any watches or bracelets. Please also remember to switch off your mobile phone before storing it safely in your locker.
Before your test, you will also be asked to review the rules of the test before being admitted. You will then be escorted to the examination room and assigned a computer to sit your Theory Test.
Part 1: Multiple Choice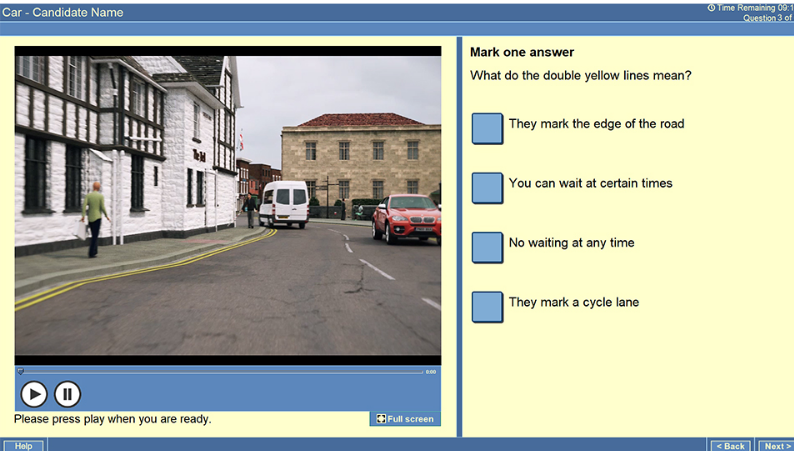 Before the theory test begins, you will be given instructions on how the test works. You will also have the option to complete a practice session. This allows you to familiarise yourself with the question format and 'warm-up' for the test.
You will have 57 minutes to answer 50 questions, focusing on different aspects of driving theory. Each question will have several available answers, and you will have to select the correct one. Be sure to read each question carefully, as some may require more than one answer. Some questions will also appear as a case study. This will focus on a scenario, on which five questions will be based on. The subject of this scenario focuses on real-life examples and experiences that drivers may come across when driving.
If you come across a theory question you are unsure about, don't worry about it, you can 'flag it' and come back to it later in the test. You will need to score at least 43 out of 50 to pass this part of the test.
After the multiple-choice section, you can choose to have a break of up to three minutes before the hazard perception part starts.
Part 2 – Hazard Perception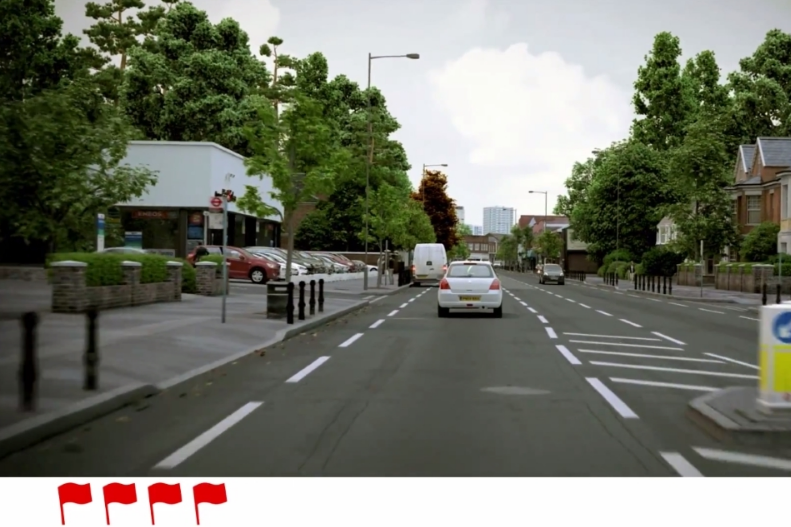 Following the multiple-choice section, you will be shown a short video clip explaining how the Hazard-Perception test will work.
You will be presented with a total of 14 video clips which feature everyday road scenes. In each clip, there will be at least one developing hazard, but one of the clips will feature two hazards. To achieve a high score, you need to respond to the developing hazard during the early part of its development. The maximum you can score on each hazard is five. You will need to score at least 44 out of 75 to pass the Hazard Perception section of the Theory Test.
After The Test
Once you have completed the test, you may be asked to provide the DVSA with some feedback. These questions are optional, and you do not need to answer them if you do not want to. You will need to leave the examination room quietly and go to the waiting room. Here you can collect your belongings and get your results from the administrator.
To pass your Theory Test, you will need to have scored a minimum of:
43 out of 50 in the multiple-choice section.
44 out of 75 in the Hazard Perception.
Theory Test FAQs
How long will the test last?
The time taken to complete the Theory Test varies from persons to person, but you should allow for at least 90 minutes.
What happens if I pass?
If you pass your test, congratulations! You can now book your practical test.
(Be sure to check your driving instructor's availability first).
What happens if I fail?
If you fail your test, don't worry, over 50% of learners fail their Theory Test. Be sure to check the areas which you scored less, and look at strengthening your knowledge of these sections. Once you've taken the time to revise again and are feeling confident, you can book another test.
Contact Us
To make an enquiry for more information or to speak to someone from the Pass Drive team, please call us on 0800 371055, complete the contact form below or email info@pass-drive.co.uk.
Our Driving Courses