The Road Ahead Blog

Welcome to The Road Ahead Blog, home to all the latest driving news, hints and tips. Here at Pass Drive Driving School, we're committed to helping you become a safe and responsible driver. Whether you're a learner driver, a driving instructor, or simply want to build your knowledge, The Road Ahead Blog is here to help. We'll be exploring a range of topics from the theory and driving tests, to the latest car and driving news, to help you plan for the road ahead.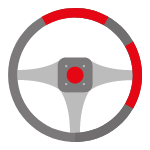 The Road Ahead Blog

Why Become A Driving Instructor?
There are many benefits to becoming a driving instructor. From having the opportunity to be your own boss, to helping you pupils grow, it is a varied and rewarding career. We've created this guide to help you explore some of the reasons why you should become a driving instructor.
27/10/2020 | Author: Greig Anderson | Instructors

Driving In Autumn
As the days get shorter, it's important to be aware of the challenges driving in autumn brings. From adverse weather conditions to car maintenance, our handy guide explores some hints and tips to help you drive safely and responsibly this autumn.
19/10/2020 | Author: Greig Anderson | Learners

Everything You Need To Know About Roundabouts
Roundabouts can be challenging for learner drivers as they can often be very busy and can have multiple lanes. We've created this handy guide to help answer any questions you may have and help you navigate roundabouts safely and responsibly.
13/10/2020 | Author: Greig Anderson | Learners

Driving Lessons COVID-19
Due to the impact of COVID-19, we've had to make some changes to our driving lessons. These changes are necessary to keep both you and your instructor safe, so we've taken the time to create this guide to driving lessons in the new normal.
21/08/2020 | Author: Greig Anderson | Learners

Pass Drive Rebrand
We've recently updated the Pass Drive brand, with the launch of our new logo and mission statement. This has given the brand a more modern contemporary feel and reinforced our commitment to promoting safe and responsible driving.
18/08/2020 | Author: Greig Anderson | News