Dual Control Cars: What You Need To Know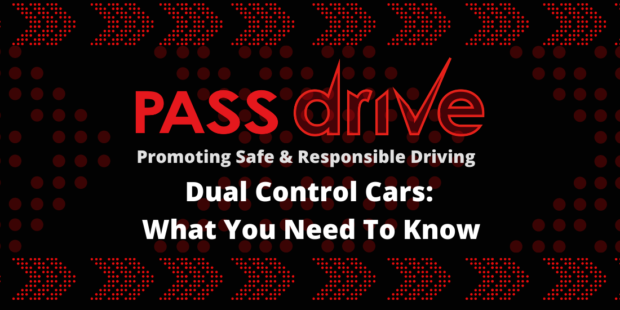 Dual Control Cars
Learning to drive is a fun and enjoyable experience, but it can also come with some challenges. It can take some time for learner drivers to get to grips with the controls of the car and develop the skills needed to become a safe and responsible driver. To help aid learner drivers, driving instructors drive dual control cars to keep both the learners and other road users safe. Dual control cars allow learner drivers to develop their driving skills, with the assurance that their instructor can take control when required.
What Are Dual Control Cars?
Dual control cars are used by driving instructors, as it allows the instructor to control the vehicle from the passenger's seat. Normally, the passenger seat is designed with comfort in mind, with plenty of room to rest your legs. However, in a dual control car, there are pedals on both sides of the car.
In a manual dual control car, there are always two pedals on the passenger's side, the brake and the clutch; whereas, automatic vehicles only have a brake pedal. Additionally, there are also two different types of dual control pedals:
Static dual controls remain stationary when the driver is pressing a pedal. This can be useful, as it can help to stop the instructor getting their feet trapped under the pedals. However, it also means that the instructor can't see whether the learner driver is using their pedals effectively. This can be particularly problematic for the instructor when driving at night.
Passive dual controls will move alongside the learner's pedals, unlike their static counterparts. This type of pedal allows the instructor to see how the learner is using their pedals to control the car. Although it also means that they can end up with sore feet if they get trapped under the pedals.
Why do driving instructors use dual control cars?
Fully qualified driving instructors must ensure that their learner and other road users are safe at all times. Through their training, driving instructors have excellent driving skills and experience which are invaluable for learners. However, this cannot account for mistakes or lapses in concentration. In situations like these, the instructor will need to be able to take control.
This is where dual control cars are excellent, as they allow the driving instructor, to take control of the situation. Dual controls ensure that the instructor can not only keep themselves and their student safe but other road users as well. They are also a great safety net for learner drivers, whilst also limiting the risk of an accident during lessons.
Do Driving Instructors Need To Drive Dual Control Cars?
Contrary to popular belief, driving instructors are not required to use dual control cars. However, it's rare to find an instructor that doesn't have a dual control car. Although driving instructors will, in most cases, be able to warn their pupils of any hazards, situations can arise where the instructor will need to take over. If the instructor doesn't have dual controls, accidents can and do happen.
Additionally, learners who want to practice motorway driving, are only allowed to do so with a DVSA approved driving instructor, in a dual control car.
How Should Dual Controls Be Used?
Dual Controls are there to support learner drivers and act as a safety net if and when they are required. The dual controls should only really be used in emergencies; they should not be used by the driving instructor to make things easier for the learner. Driving instructors should be able to make a decision as a situation arises and either provide a warning or recommend action. Should this action not be taken, or there is no time, it is appropriate for dual controls to be used.
If the dual controls are used, then the driving instructor should take the time to address the situation with the learner when safe to do so. Through discussing the incident, the learner can better understand why the action was taken and avoid making the same mistake in the future.
Your Options
Whether you're a new driving instructor just starting out, or have been teaching for years and fancy a change, there are a few options when it comes to dual control cars. If you already have a suitable car, you can have dual controls fitted to your current vehicle. This is usually the cheapest option and can be done relatively quickly. We recommend He-Man Dual Controls, Veigel Dual Controls and Universal Dual Controls.
He-Man dual controls are tailored to suit your car make and model. This means that your dual controls will have slight differences when compared with other driving instructor's cars. Although this results in your dual controls being perfect for your vehicle, you will most likely have to buy another set if and when you change car.
Like He-Man, Veigel dual controls are tailored for your car, with over 800 different variants available. It was Veigel who first created the dual control system back in 1920, and they've continued making them ever since.
Universal Dual Controls differ slightly, as they are more generic. Although more expensive, this does mean that they can be transferred from one car to another with ease. This is useful, as it is likely that you will change your car a few times throughout your career.
Pre-Fitted Dual Controls
Another option is to buy a shiny new car that has dual controls already fitted. Although our cars are usually reserved for Pass Drive instructors, we have opened this up for a short period to help support instructors through the COVID-19 pandemic. Our range of dual control cars come complete with the latest Thinkware F800 front and rear dashcams and can be delivered directly to your door. All of our cars are available at heavily discounted prices and are custom made to suit your needs. We currently stock a range of fantastic Fords but will be expanding our available makes and models soon.
Contact Us
If you have any questions about dual controls or our range of cars, please do not hesitate to get in touch, we'd love to hear from you. You can contact us by phone on, 0800 371055, email: info@pass-drive.co.uk, or on our live chat at the bottom right of this page. You can also enquire about our dual control cars by completing the form below. We look forward to sharing more driving skills, tips and news with you soon.